NITRIDING(PS)TREATMENT
LIST OF NITRIDING(PS)TREATMENT EQUIPMENT
DEVICE
NAME OF DEVICE
DIMENSION
UNIT
MAX TEMPERATURE
CAPACITY
NITRIDING FURNACE
PS (Prevents Scoring and Scuffing) Furnace
600×650×1,300
2
600℃
1,000Kg/Ch
PSG(PS in Gas Process) (Apr. '13)
Φ1000×1500
1
600℃
2,000Kg/Ch
WASHING BATH
Rough Washing Bath
992W×1,292L×1,729H
1
-
25.5KW
Finishing Washing Bath
992W×1,292L×1,729H
1
-
25.5KW
Evaporate Bath
992W×1,292L×1,729H
1
-
54.0KW
【PS TREATMENT・NITRIDING FURNACE】 【PS TREATMENT・WASHING BATH】


★Application:
Hot/Warm WorkDies : Diecasting Dies and Parts, Forging Dies,Stamping Dies, ExtrusionDies.
Forming Tools : Rolling Dies
Others : Parts for Wear-proof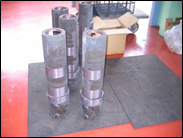 ★ WEAR RESISTANCE PROPERTY IS QUITE EXCELLENT DUE TO RICHOXIDE (FECR)3O4LAYER WHICH IS STABLE THERMALLY AND IS HIGHLY ADHESIVE.
★ IT PERFORMS EXCELLENT PROPERTY BOTH IN GALLING RESISTANCEAND PREVENT-SCUFFING PROPERTY DUE TO RICH OXIDE (FECR)3O4.
★ CHANGE OF SHAPE AND DIMENSION IS VERY SMALL WITH ITS LOW PROCESS TEMPERATURE OF 520-550℃ WHICH ENABLES HARDENING SURFACE OF DC53 WITHOUT LOSING INNER HARDNESS.
★ IT PERFORMSSHORT LEAD TIME(N+1) DELIVERYACCORDING TOITS MELT-BATHTYPE TREATMENTWHICH ENABLESEASY SETTING.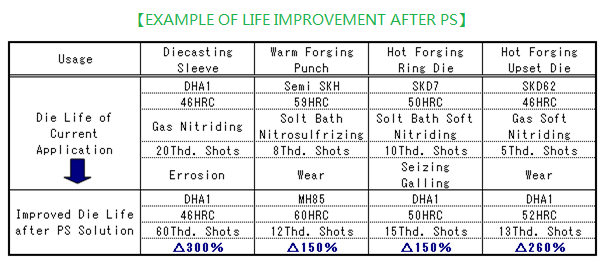 ---